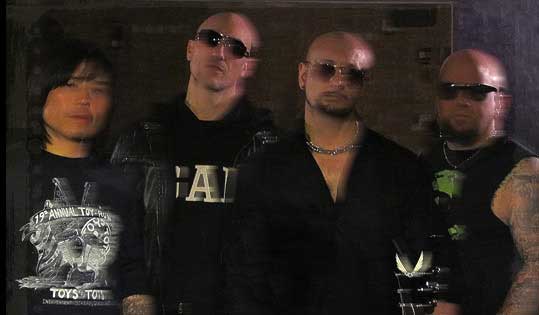 Ask any member of Finster Baby how the band has managed to survive for the past twenty years in a local club scene that many would argue is the most ruthless in the country, and they'll tell you flat out that it hasn't been easy. Battling everything from a local scene that regularly eats its young, fickle
club-
goers
 and constantly changing promoters — it's been an uphill climb all the way. In the face of obstacles like these, how does a band survive two decades playing the
rat holes
of the tri-state area? According to Finster Baby's guitarist, Steve Raia , the answer is simple, "write better songs and remain the constant in the storm"
Anyone who's followed the NY music scene over the past twenty years likely has either seen a Finster Baby show or has heard the name. Singer Scott Ceffalia, guitarist Steve Raia, drummer Tony Passimenti and bassist Jim Mui formed the band in 1990 and have been a fixture in clubs ever since. Early on, Finster Baby made a name for themselves with their hook-laden, sleazy hard-rock sound and their over-the-top S&M glam look. The band's popularity grew wildly as did their legion of predominantly underage female fans.
In 1992 Finster Baby recorded their debut album "Take A Lick 'An See" for Vagabond Records, a small
 independent label the band believed would give them their undivided support. High hopes for their debut release, were soon dashed by Vagabond's decision to license the record exclusively to Mausoleum Records, a German company in the process of a U.S. expansion. Fueled by positive reviews and energy charged live performances, Mausoleum had originally intended to make Finster Baby their "maiden voyage" in the States, however the album soon
 became lost in a whirlwind of personnel, location, and musical style changes that occurred within the company. After several years of broken promises and legal battles, Mausoleum dissolved and Finster Baby were free agents yet again.
Five years after first forming, Finster Baby found themselves in exactly the same position they were when they started. The only
 difference was the NY music scene was changing as were current tastes in popular music. After a failed record deal many bands would just decide to call it quits and go their own way, but recognizing that their chemistry was something special, Finster continued to play together and stay current, outgrowing the glam image that they were originally synonymous with. Paying more attention to
 songwriting and arrangement has served the band well, as they have somehow managed to maintain the same fan base despite the fact that their sound has matured and landed about 180 degrees heavier than when they first started.
Detractors can argue that Finster Baby has nothing new to offer simply because they have been around so long, apparently forgetting how so many new bands that make it say the same thing "…we may appear to be an overnight success, but we've been together twenty years!" One listen to Finster's newest recordings and it's immediately obvious that the songs speak for themselves. From the heavy hooks of "Devil's Do" and "Yeah" to the throttling "Stroke Your Motor", there's no denying that this band is in it for the long haul, drawing new fans into the fold, and simply getting better at their craft. So many, many years later, despite the innumerable obstacles, on any given evening, in any given club, behind the smoke and PA cabinets, and torn flyers all over the walls, you may find the same familiar well-tuned machine churning it out, and weathering the storm…but this time around the sound is a little angrier.